From as early as I can remember I have loved drawing, be it sketching the animals in London's Natural History Museum as a child to copying my favourite cartoon characters.
​
One thing is for certain, I was never destined to be far from a pencil.
I've included a sample portfolio on the drop down menu so you can get a flavour of the sort of work I produce.

Having received a general grounding at art school I set my sights on becoming a cartoonist.

I had an early boost as a teenager by winning a national competition run by the Athena greetings card company to have four designs printed but had to wait another few years before actually going freelance.

I'd been made redundant from my previous job and used the small redundancy settlement to rent desk space in a trendy Covent Garden creative business environment.

Six months down the line (and with my redundancy money all but gone) I had begun to establish myself as a cartoonist and with the added bonus of securing an agent in the form of Linden Artists.

Over the years I moved studios a few times and during that period both my portfolio and my experience grew.
​
Being in the heart of London meant I was able to pick up some really interesting work including being licensed to draw Hagar the Horrible for Skol lager's three year national advertising campaign, producing the character merchandise material for the Telebugs TV series, almost becoming the illustrator for Rosie and Jim (that's another story!), illustrating the cover for The Tony Blackburn Book of Jokes, drawing for national children's comics and a couple of Woolworths ads which appeared in them, and, oh yes, being involved with the initial creation and design of the Kellogg's Honey Nut Loop bee, no less!
In time I switched artists agents to Beehive Illustration which opened me up to the whole word of digital illustration and producing work for many publishers around the world.
Over the years I've also worked with many of the major Christian publishers and organisations producing illustrations for their books and publications.
One of these is the Salvation Army's weekly comic, 'Kids Alive!' for which I've scripted and drawn their back page cartoon for more years than I'd care to remember.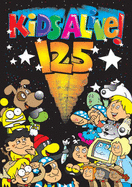 How I work

Although my output is now based around an iMac, my method for producing illustrations still owes a lot to my early ways of working.
​
I begin any illustration by roughly sketching things out on layout paper and when I'm happy with it I'll trace over it onto smooth art paper with black fibre tip pen which has replaced the dip pen I once used.
​
In the old days I'd have then coloured this up using a paint brush and inks but now I scan the black line artwork into into my iMac ready for the next stage.

This involves uploading the image into Adobe Illustrator and doing an Image Trace to enhance the quality.
Next up I open the image in Adobe Photoshop and colour it up, finally saving it as a jpg or a tiff.
​
So now you know!